Series 12L
Series 12L pumps are designed for very high pressure service primarily for compressor gas sealing, fluid power and hydrostatic bearing applications. Pumps are equipped with a steel case and balanced mechanical shaft seal. This series is believed to be the world's highest pressure capability 3-screw pump.
12L

SERIES

Nominal flow rate, GPM/LPM, at 4500 PSI (276 BAR), 200 SSU (43 CST)

SPEED RPM

Size

3500

2900

1750

118

14/53

-

-

137

25/94

18/68

-

156

39/146

29/110

-

187P

54/205

41/156

-

187

70/267

55/207

-

200

87/330

68/258

27/102
Series 12L Specifications
Casing- Low alloy cast steel.
Rotor Housing- Pearlitic gray iron.
Power Rotor- Alloy steel, nitride hardened and thread ground.
Idler Rotors- Ductile iron, hardened and thread ground.
Gaskets- Fluoroelastomer o-rings with backup rings.
Seal & Bearing- Balanced mechanical seal with stainless steel bellows, fluoroelastomer o-rings and carbon on carbide sealing faces. External, permanently grease packed, deep groove ball bearing.
Accessories- Completely mounted, built to order pump/driver assemblies are available with baseplates, ANSI RF spool pieces, etc.
Outlet Pressure- 4000 PSIG (276 BAR) maximum for size 118. 4500 PSIG (310 BAR) maximum for sizes 137 through 200. Minimum recommended differential pressure is 40 PSI (2.8 BAR). Consult Imo Pump for higher pressures.
Inlet Pressure- 200 PSIG (13.8 BAR) maximum. 250 PSIG (17.2 BAR) maximum for type N.
Viscosity- 45 to 3000 SSU (5 to 650 CST)
Temperature- 0 to 250°F (-18 to 121°C)
Drive- Direct only.
Rotation- Clockwise facing pump shaft .
Mounting- May be foot mounted in any orientation.
Connections- Pumps have SAE 4-bolt socket weld flanges that are provided with the pump.
Filtration- Inlet strainers are required to keep contaminants and abrasives out of the pump. They must be selected in consultation with the strainer vendor to prevent pump starvation. Normally, 25 micron or finer inlet filtration is recommended.
Maximum Speed*- 3600 RPM
* Assumes minimum inlet pressure requirements are met.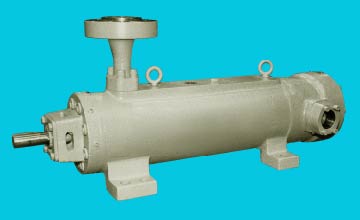 Series 12L pump shown with optional discharge spool piece and inlet port rotated 90 degrees from the standard up position.