Series 413IC
The 413IC pump is designed for vertical, deep well submerged operation for unloading barges, small tankers or tanks. The pump discharge is axial along the shaft. The design incorporates a third idler rotor which suppresses vibration and noise when pump is lightly cavitated.
413IC

SERIES

Nominal flow rate, GPM/LPM, at 100 PSI (6.9 BAR), 200 SSU (43 CST)

SPEED

Size

1400

1200

1000

800

700

800JD

2100/7948

1750/6624

1430/5413

1100/4164

950/3596
Series 413IC Specifications
Rotor Housing- Bronze
Power Rotor- Alloy steel, hardened.
Idler Rotors- Alloy steel, hardened.
Gaskets- None
Bearing- Internal carbon graphite sleeve
Outlet Pressure- 150 PSIG (10.3 BAR)
Inlet Pressure- Static head to static lift.
Viscosity- 33 to 20,000 SSU (2.0 to 4300 CST). Lower viscosity ranges require lower allowable differential pressures.
Temperature- 0 to 300°F (-18 to 149°C).
Drive- Direct only.
Rotation- Counterclockwise facing pump shaft.
Mounting- For vertical, deep well mounting.
Filtration- Standard pump is equipped with an inlet strainer having 1/4 inch (6.4 MM) openings.
Connections- Inlet is the screened end of the pump. Discharge is through openings in the shaft end of the pump.
Maximum Speed*- 1500 RPM
* Assumes minimum inlet pressure requirements are met.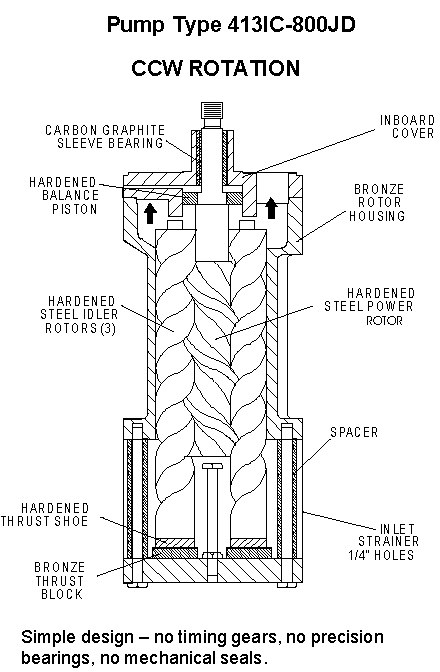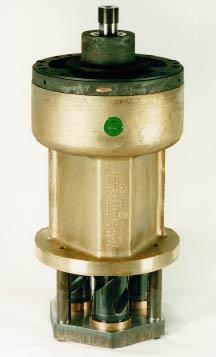 Unit above is shown with inlet strainer removed to expose view of rotors.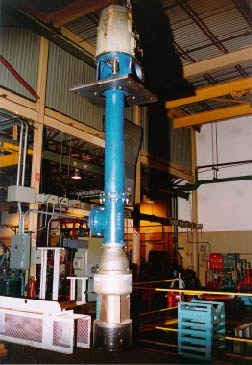 413IC-800JD pump mounted to the end of a discharge column. The drive shaft and spider bearings are inside the column.